Some of the toughest reservations to get in this affluent suburb of Chicago are for the early tables at the Mather, a senior community of $1 million condominiums near Lake Michigan. Citrus-dressed duck breasts and "tomahawk" pork chops are on the menu, along with vegetables from a cooperative farm in upstate Wisconsin and house-made gelato.

Across town, aging nuns at the Mercy Circle retirement center drink fruit-enhanced spa water at "hydration stations," spread whipped European butter on house-baked rolls and discuss the prices at the farmers' market set up in their courtyard.

Chefs there purée roasted, free-range chicken for residents who can't eat solid food, then mold it into an approximation of the real thing, garnishing the plate with a reduction of balsamic vinegar.

In a nation where food has become a cultural currency and the baby-boom generation is turning 65 at a rate of 8,000 people a day, it was only a matter of time before expensive ingredients, elevated cooking techniques and old-fashioned food snobbery hit the nursing home.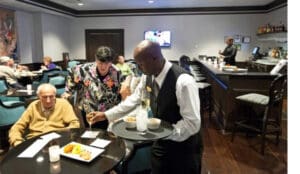 Residents at The Merion in Evanston, Ill., have a cocktail lounge.
Credit: Nathan Weber for The New York Times

"The latte and sushi generation is coming," said Mary von Goeben, the executive director of Mercy Circle, where almost 100 retired nuns in various states of health live. "The people entering nursing homes have traveled and they are used to eating at great restaurants."

Culinary schools are redesigning curriculums to teach students how to cook for the aging. At many senior living communities and nursing homes, chefs with degrees from Johnson & Wales or the Culinary Institute of America have taken over kitchens.

They sear wild Alaska salmon and offer cooking demonstrations. Residents can drink craft cocktails in the lounge at the Merion in Evanston. At places like Wake Robin senior center in Vermont, chefs use whole pigs from local farms and serve coffee roasted in nearby Burlington. At Lenox Hill Neighborhood House in Manhattan, sustainable seafood comes directly from the boat.
And as well-known chefs like Wolfgang Puck pass their 65th birthdays, they are taking their passion for cooking into work with Meals on Wheels and other programs that feed seniors. The prolific cookbook author Paula Wolfert, 76, is developing recipes to help fight her recently diagnosed Alzheimer's disease and is publicly pushing other chefs to join her.

Mark Ozer, 82, is a retired doctor who in February moved into the Ingleside at Rock Creek senior center in Washington, D.C. This week, he is hosting a Spanish wine dinner featuring paella.
"A very important part of the issue for elderly people of this generation is choice," he said. "The people here are cultured people. They've had experience. They are not about to be treated as a herd."

His daughter, Kathy Ozer, director of the National Family Farm Coalition, applauds the changes in senior living centers but raises concerns that others are voicing.
"To me the question is, 'Are they only doing this at their higher-end places, or are they doing this across the board?' " she said. "How accessible is this to people with less money to spend?"

Food service executives predict that changes at higher-end institutions will eventually revolutionize food at every economic level. It is inevitable, they say, given the growth of the industry.

"The race is on in senior housing," said Andrew Carle, founding director of the senior housing administration program at George Mason University. "We know the people coming in next really expect more choices, so operators are saying food is going to be a huge competitive advantage."

The number of people 65 and older is expected to make up 19 percent of the population by 2030. Centers that offer "continuing care," — often high-priced living complexes where someone might move into a private apartment, then transition to a related assisting-living center and, later, a nursing home — have grown to over 2,000 in the past few years.



The Merion also offers a menu that includes artfully prepared dishes.
Credit: Nathan Weber for The New York Times

The changes in senior-center food service are not purely about money or pleasure. Fresh, well-prepared food also offers a therapeutic advantage in centers where the nursing staff constantly battles fading memories, taste buds and appetites.

For people with memory loss, waiters may use photographs on tablet computers to help them order and serve food on red plates. People tend to eat more when there's a strong contrast between the food and plate, some studies show. For people who can't eat solid foods, a consortium of European countries is investing in 3-D technology that can transform, for example, pineapple purée into something that looks like a pineapple ring on the plate.

While that technology is not used in the United States yet, the attention paid to the look and taste of puréed food has changed dramatically.

"It's a dignity issue," said Richard Schenkel, who founded the Unidine Corporation in 2001 as a way to bring a greater culinary perspective to food in senior housing. In the last year, his business has grown 30 percent. He now has 120 contracts with some of the biggest senior housing chains in the country. Many of them, like Montgomery Place in Chicago, have herb gardens and farmers' markets.

"They have realized they cannot continue to just provide a tray or a can of supplement or a scoop of soft food in a monkey dish in a skilled nursing home anymore," he said. "Those days are over."

Mr. Schenkel prefers to work with companies where clinical dietitians report to the culinary operation. State and federal nutrition standards can be met more deliciously that way, he said.

"If you separate clinical dietitians and the culinary side, you end up prescribing Ensure and supplements. We can make fresh food like smoothies and fortify them," he said.

To be sure, chef-style food has not charmed all residents. At Mercy Circle, old standards made from scratch, like grilled cheese, banana pudding and chicken salad, are more popular than dishes that push the culinary frontier.

And a farmers' market is a nice distraction, residents say, but they are not as enthralled as the people who organize it.

For Maura Lowrey, 88, the changes at Mercy House have been a mixed bag.

"The first time we were in this dining room and they brought the menus out, we thought, 'My goodness,' " she said. But the farmers' market seemed a bit like window dressing. "One day I paid 75 cents for a peach, and the next day they were free in here in a bowl."

For chefs, the clientele can be harder to please than a New York critic. Meals are a focal point of the day. So when people — many of them women in their 80s who have cooked from scratch most of their lives — get together three times a day to eat, there are bound to be complaints. Soup is never hot enough. Steaks are overcooked. Service is slow.

"These people are tough," said Ms. von Goeben of Mercy Circle. "I've had little old ladies come up to me with a plate of food and say, 'Would you eat this?' "

https://www.nytimes.com/2014/09/08/dining/grandmas-meat-loaf-hardly-her-retirement-home-now-has-a-3-star-chef.html