Aldo Perrelli, a tenor from Highland Park who works at a Glenview Jewel grocery store, was selected Sept. 26 as the scholarship recipient of Opera Idol Finalists "Face-Off" at The Merion in Evanston.

Perrelli was voted as the winner of the eighth annual $3,000 scholarship from among five finalists.

"I'm excited," Perrelli said minutes after the announcement was made in The Merion's Crystal Ballroom at 1611 Chicago Ave.

Next summer, Perrelli will fly, expenses paid, to an intensive opera workshop in Florida under the tutelage of baritone opera star Sherrill Milnes. Milnes is a Grammy award winner who has performed for every United States president from Gerald Ford to George W. Bush.

This year's runners-up are Rebecca Caliendo, formerly of Aurora, Elyse Kakacek of Chicago, Holly Flack of Chicago and Christina Chakos-Kaloyanides of Orland Park. Milnes, who believes the finalists are "all winners," said the four runners-up could also attend his intensive workshop if donors or a generous benefactor would assist with tuition.

Perrelli, who was a finalist three years ago, graduated in 2013 from the University of Wisconsin-Madison with a master's degree in opera performance and welcomed his second opportunity to compete in Opera Idol.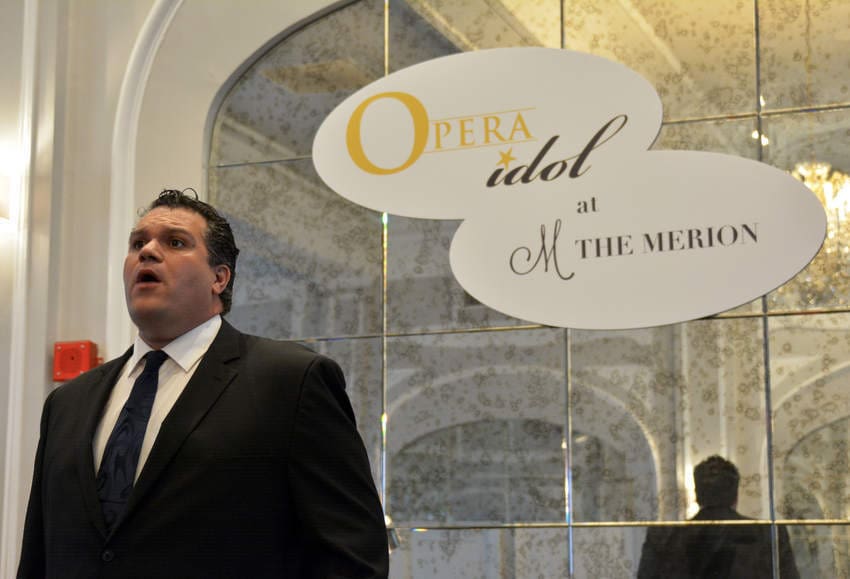 Q. Aldo, it's about 4:45 p.m., a few hours before your performance and a half hour before vocal warm-ups. Thoughts?

A. I'm very excited to be back. Opera, to me is a challenge. You know, some people feel challenged by a crossword or Sudoku, because everything fits together. The way the voice fits into the music, the harmonics. It's very difficult to do. There aren't that many people who can do it. You'll have a lesson. You'll have a coaching. You'll have another lesson. Just for one sheet of music, there might be a passage that's so difficult that it will take months just to be able to sing just one passage. I think people in general just don't realize how much work goes into being a singer. I am really happy there is a competition like this that kind of brings what we do to light.

Q. How has the North Shore shaped you as a singer and performer?

A. Highland Park is a great community when it comes to supporting the arts. I kick myself now, having been out of high school for a while, but looking back, I did not take advantage of what was available to me in high school. I didn't have an interest in singing back then so I didn't pursue it. But for a young person who lives in this area, there are voice teachers, there are choirs, there are musical theater opportunities. For a young person, it's a great opportunity to get involved and to start learning the whole process of being in an ensemble and learning something and sharing it with an audience. It's a very good thing to have. Besides being fun, it's something that brings the community together as well. It creates so many bonds. I've made so many friends from singing. Every time I do something like this, or I do an audition somewhere, I meet new people, or I do a gig somewhere, my world is growing very slowly but it's growing every time I do a new engagement.

Q. What is it like to keep a regular job as a grocery retail employee who also sings opera?

A. You have to plan and you have to be resourceful with your energy because you have a finite supply of energy. You have to look at your day and say, "OK, this is what I'm doing. I'm working six hours and then I'll have enough energy to do an hour of practicing." I'll have enough mental capacity left in me to do this much research on a role or to learn a page of music. And you have to make goals and you have to be accountable to yourself to get those things done.

Q. What's your future?

A. I started singing when I was 24. I find myself in this awkward position. Many [opera programs] do have a cut-off of [age] 30, so I've missed out on so many opportunities to get myself out there. I chase after all of the opportunities that I possibly still can and I'm also considering heading overseas to Germany to start something there because there's just so much more opportunity there.

Q. Are you an underdog?

A. I don't think so. No, I don't think so. I'm a struggling singer like the rest of us are. Everyone has something that they have to overcome, aspects of their singing that they still need to fix. We're all in different parts in our journey, different stages of our journey.

Q. How are you thankful?

A. I'm very thankful especially for the people that I've met. I'm especially thankful for my voice teachers. Every voice teacher that I've had has helped to bring me from one level to the next. I feel like I've made constant progress. My directors. There are so many people that I really owe an abundance of thanks. And my friends and family, they've been supportive.

https://evanston.suntimes.com/2014/09/30/highland-park-tenor-hits-high-note-opera-idol-2/