The Merion Residents, Staff Connect with Kids and Community Heroes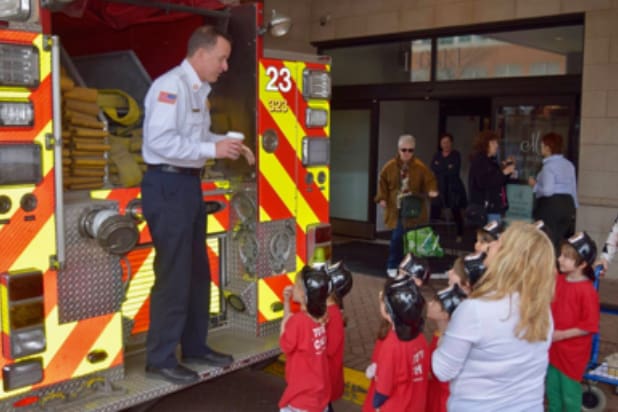 May 4, 2018
Every year, the Evanston Fire Department responds to approximate 10,000 calls for fire-related and emergency medical services. On May 4, more than a dozen firefighters responded to a different type of call at The Merion.
Dozens of residents and staff at the senior living community, along with about 40 nearby preschool kids, awaited the firetrucks pulling up outside its downtown Evanston location.
The Merion partnered with Total Child Preschool to honor local firefighters as part of International Firefighters' Day. The celebration included refreshments, gestures of genuine thanks for their service and deeper connections across the generations.
It's one of the latest activities in the MerionCares program to build resident engagement by focusing on wellness initiatives for the mind and body, as well as community spirit to stay involved and give back in Evanston.
Kids partnered with residents to draw pictures for firefighters, write cards of thanks, and they also got hands-on demos of trucks and various equipment firefighters use.
"We consistently look to have activities and opportunities for residents that foster social engagement and are meaningful to them," said Anne Ryan, social services/care coordinator at The Merion.
Resident Robin Tucker's late husband was a firefighter and her grandson currently serves at one of the five Evanston fire stations. The Evanston Fire Department shared its sincere thanks to the senior living community and preschool kids for hosting the event.
"The engaging and caring residents and staff members you find at our community speaks loudly of the culture here and connection with Evanston," said Mark Zullo, marketing director of The Merion.
Stay tuned for what's next in the MerionCares program. Click the following links to see various other activities or learn more about the lifestyle at The Merion.