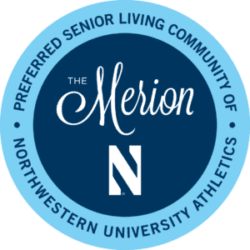 The Merion of Evanston is proud to announce its new partnership with Northwestern Athletics as the "Preferred Senior Living Community of Northwestern University Athletics" through the 2017-18 athletic year.
"The fit for this collaboration is absolutely perfect as Northwestern Athletics and The Merion reflect each other's core values and commitment to excellence. Northwestern is renowned for its unparalleled academics, and outstanding athletics. The Merion has distinguished itself by providing an incomparable active lifestyle for seniors," said David Sherman, director of operations for The Merion.
"We are honored to partner with The Merion and are excited to welcome its residents into the Wildcats family," said Ryan Connors, general manager of Northwestern Sports Properties. "This partnership includes numerous opportunities for Northwestern student-athletes and The Merion residents to meet and interact to forge a stronger Evanston community."
The Merion will support various initiatives with Northwestern Athletics that will include a unique role as the presenting sponsor of Wildcats Season Ticket Holder of the Game. This promotion recognizes longstanding football season ticket holders for their outstanding support, loyalty and contributions to NU. Additionally, residents at The Merion will team up with the WildPride Cheer Squad to perform live halftime entertainment at select men's basketball games.
In addition to the basketball programs, The Merion will also be significantly involved with select Olympic sports as a sponsor and supporter of various "Senior Day" celebrations. These game-day ceremonies will recognize graduating Northwestern student-athletes in the volleyball, men's soccer, women's basketball, men's tennis, lacrosse and softball programs.
"This partnership is really the epitome of a win-win situation. We are connecting the elegance and energy of The Merion, with the passion, tradition and fans of Northwestern Athletics," said Sherman. "We look forward to exploring many