Transforming The Merion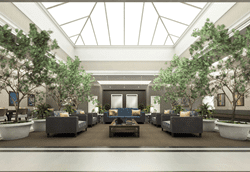 October 27, 2015
It's an exciting time at The Merion in Evanston. Recently completed renovations at the luxury rental retirement community in the heart of downtown Evanston, have resulted in beautiful updated furnished apartments and breathtaking gathering areas. Last week, the staff, construction crew, residents and prospective residents celebrated the topping off of The Merion's new tower being built just north of its existing building. "It is wonderful watching The Merion evolve, and we're very excited about this next step in its metamorphosis," said David Sherman, director of operations for The Merion.
The Merion, which was formerly The North Shore Hotel, has been completely remodeled over the past eighteen months. The transformation has included renovations and addition of upscale finishes in all of the 140 rental residences, as well as major remodeling of common areas including the Crystal Ballroom, JEM Dining Room, Crystal Lounge, the beautifully appointed library and more.
Owners broke ground on the new tower of The Merion on October 9, 2014. When completed next spring, it will feature 65 luxurious apartments, an indoor pool and retail space.
Last week's topping off ceremony marked placement of the last beam atop the new structure. Construction over the coming months will focus on the exterior and then apartment interiors will be completed over the winter. The apartments will include central air, hard wood floors, stainless steel appliances, shaker maple cabinetry, granite counters and more. Residents will enjoy world-class dining, housekeeping, on-site live entertainment, a world-class fitness center and more.
Several future residents have already made deposits on apartments in the new building. "The existing building is experiencing increasing rentals. For all practical purposes, they are new apartments as they've all been completely renovated. We're glad that we'll also have the availability of the apartments in the new building in the not-too-distant future," said Margaret Gergen, director of leasing at The Merion. "Residents are really recognizing the value in renting a luxury apartment in The Merion and we are happy to welcome them to our community."
At a special luncheon on Tuesday, October 13 celebrating the topping off, new renters were honored, and along with construction workers and staff of The Merion, signed the final beam. "As one phase of our construction has been completed, the next exciting stage begins, and we're very much looking forward to the beautiful finished product," said Sherman.
The Merion is a luxury senior apartment community for active, independent retirees seeking a hassle-free rental home in Evanston. Formerly known as The North Shore Hotel, The Merion has been totally renovated with upscale finishes and amenities. For additional information, visit www.MerionEvanston.com.
As seen in Chicago TribLocal.