UPSCALE RETIREMENT COMMUNITY NEAR CHICAGO'S NORTH SHORE
DISCOVER EVANSTON'S SIGNATURE SENIOR LIVING
We offer stylish independent senior living in Evanston, IL, sharing the vibrant spirit of our urban setting. The Merion is a historic property. Long a distinguished landmark, it's been lovingly restored and expanded with all-new modern interiors. Outside our door, you'll find the energetic neighborhood of a diverse university town. And, of course, minutes away are Lake Michigan and Chicago, with all its world-class attractions.
SERVING CHICAGOLAND
With its rewarding lifestyle and bustling downtown Evanston location, The Merion has become the area's premier independent senior living community. We're proud to serve older adults serving Chicago, Lincoln Park, the North Shore suburbs and throughout Chicagoland.
FLEXIBLE RENTAL LIFESTYLE
Comfortable, well-appointed rental floor plans are designed for independent living, with senior care services available to help you age in place. Our conscientious staff takes care of home maintenance, housekeeping and laundry. Dining is superb, with a renowned culinary team on board for delectable meals and magical desserts.
INTELLECTUAL AND CULTURAL ADVENTURE
The Merion is home to astute, well-read, socially savvy individuals from all walks of life. They're attracted to the entertainment and cultural offerings of Evanston and nearby Chicago. They frequent eclectic dining venues around town. And participate in myriad continuing education programs at nearby Northwestern University. 
If you're ready for a more fulfilling retirement, you'll love The Merion. Our community and those who live here offer opportunities to ponder new ideas, stimulate curiosity and develop flourishing friendships.
STAY HEALTHY IN MIND, BODY AND SPIRIT
Discover a program of services and amenities that supports every dimension of your well-being. MerionCares offers countless ways to help you age well and wisely:
Lifelong learning
Fitness classes
Engagement and participation opportunities
A culture of fellowship and friendship
Exceptional health services
Further, The Merion Wellness Center is available for 24/7 emergency routine health services. À la carte assistance-in-living support is also offered daily.
OWNERSHIP
The Merion is part of the Horizon Realty Group's portfolio of residential property. Family-owned and operated in the Chicagoland area for over 30 years, Horizon Realty Group represents the pride of ownership, attention to detail and commitment to quality only possible from a local, small business.
A RICH HISTORY
Our building was founded as a North Shore hotel in 1919. From its earliest days, our Tudor-style building has provided an elegant vantage point to thriving Evanston. Now completely and splendidly refurbished, it's a unique setting for retirement living with urban flair.
Learn more about our senior living community in Evanston.
MEET THE PEOPLE WHO MAKE OUR COMMUNITY SPECIAL
Our day-to-day management team includes experienced, dedicated individuals who have extensive experience in the field of senior living.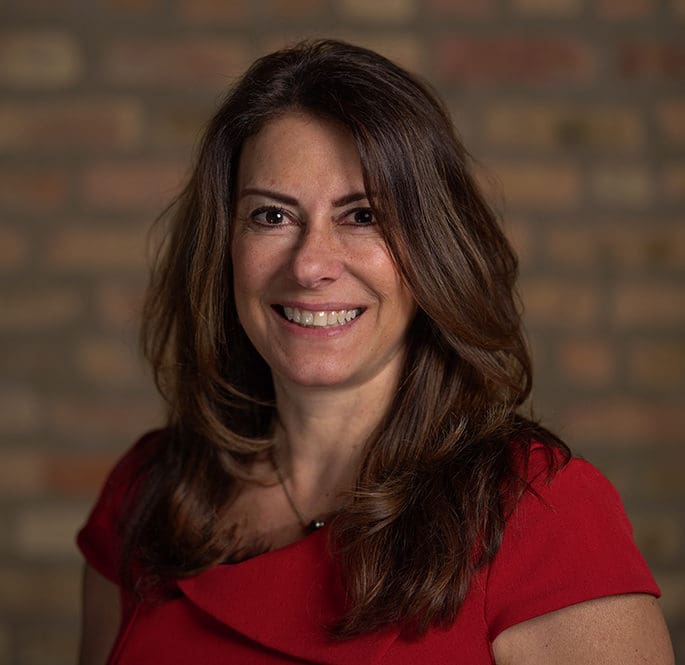 Maria Hammer
Executive Director
mhammer@merionevanston.com
Maria brings more than 30 years of management and leadership experience in the hospitality and health care industry to her role at The Merion. She has unique insight into the boutique hotel and luxury residential market and healthcare practice. Maria and her team provide an expert and seamless client experience. Their mission is to ensure that all current and prospective residents of The Merion receive excellent health care and matchless luxury service, hallmarks of the community.
Fun fact: Maria enjoys outdoor sports such as rock climbing, hiking and fishing.
Tammy Potts
Social Director
tammy@merionevanston.com
Tammy's infectious enthusiasm inspires everyone to participate in new and exciting events.
She comes to The Merion with a rich background in resident services. Tammy's goal is to help create special-interest groups, programs and events to reflect the myriad interests of the residents. You can find Tammy organizing events, socializing with residents and brainstorming more fun events.
Fun fact: Tammy loves to cook and entertain friends and family in her home.
Alberto Riquleme
General Manager – Dining Service
A private club dining manager for many years, Alberto most recently managed the dining operations of Ravinia Green Country Club in Riverwoods, IL. He's also served the Lobos Club, Harrison Conference Center, and Deer Path Inn. Alberto's focus is to bring the highest level of service and hospitality to every resident. Alberto can be found around any lounge or restaurant at The Merion making sure the quality is superb and residents and guests are satisfied.
Caroline Waite
Sales Coordinator
Caroline loves Evanston and is dedicated to creating and sustaining a joyful and luxurious living experience for the residents of The Merion. She has spent over 20 years in premium property, hospitality, and luxury retail management. This experience has taught her everything about quality, and her personal interest and study in nutrition and wellness, enable her to offer a wide range of service and supper to the new and current residents in making each and every day in this remarkable city the best it can be.
John Janco
Director of Marketing & Sales
John brings 30 years of Sales and Marketing leadership experience in senior living and hospitality to his role at The Merion. He knows the nuances to represent a luxurious, vibrant lifestyle with excellent care and service. John believes in engaging residents with prospective residents to get a true representation of the community.
Fun fact: John was born and raised in Chicago, then lived in Houston, Dallas, Las Vegas, and Saugatuck, MI over his career. He enjoys cooking and baking to entertain friends and family at his home in Wrigleyville.
CONNECT WITH US
If you are interested in learning more about our lifestyle, pricing or would like to schedule a tour, simply fill out the form and a member of our team will be in touch soon.
Quick Form
"*" indicates required fields
CONNECT WITH US
If you are interested in learning more about our lifestyle, pricing or would like to schedule a tour, simply fill out the form and a member of our team will be in touch soon.
Quick Form
"*" indicates required fields
CONNECT WITH US
If you are interested in learning more about our lifestyle, pricing or would like to schedule a tour, simply fill out the form and a member of our team will be in touch soon.
Quick Form
"*" indicates required fields